Without question, it has been a great last 14 months for investors. The S&P 500 index closed above 4,000 on April 1st of this year and has continued rising and is now close to double where it stood just a little over a year ago around 2,200. This is one of the best runs in US market history, but many investors are nervous about the stock market highs, despite the wealth created for those who have stayed invested.
Believe it or not, new market highs don't reveal any predictions for future stock returns. Would you be surprised to know that U.S. stocks have hit a new market high about every fourth month since 1926? Further, stocks tend to reach even higher levels more frequently after reaching a high much more often than they have gone lower.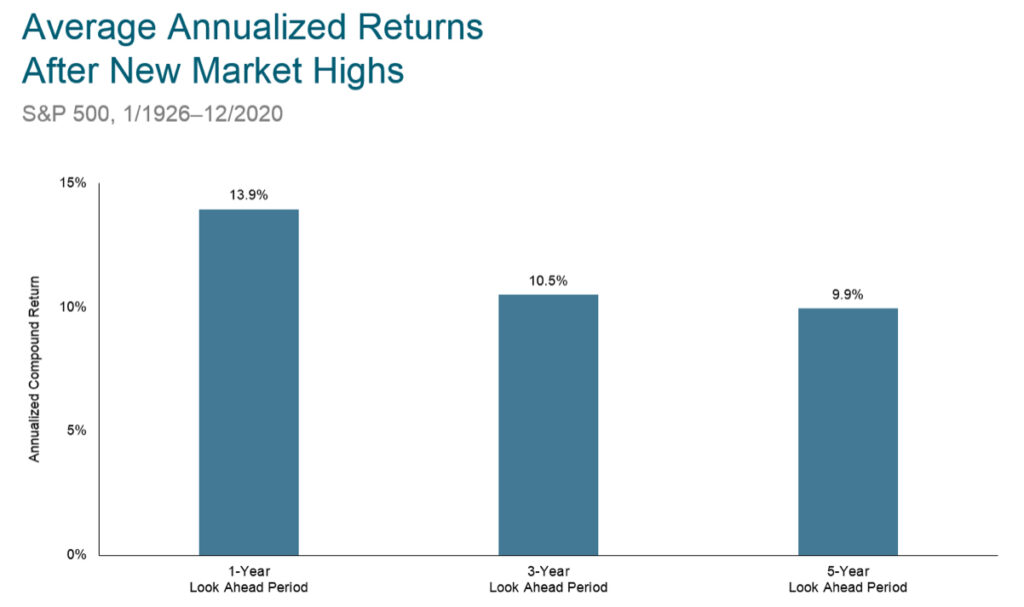 In other words, betting on a market crash after a new high in the past would have been harmful to future returns.
It's natural that you may feel the urge to time the next downturn, but before you do – have humility and understand that the historical odds are heavily against you that you're successful. Remember, you have to be right twice to successfully time the market – when to get out and when to get back in.
The best way to manage this risk is through broad diversification in many types of investments. Understand that a properly diversified portfolio will likely mean investing in some areas that don't do well in any given year, and some that perform well. This is exactly what you want.
This past year reminded us of an important lesson; the future is unpredictable, and we should expect the unexpected in markets. Fortunately, you don't have to predict the future to have a sound strategy to manage expected and unexpected events. Throughout US history, capital markets have greatly rewarded investors who take the long perspective and stay disciplined amid scary times and events. You can take the road that is not only less stressful, but more likely to be successful.
Past performance is not a guarantee of future results. Diversification does not eliminate the risk of market loss. There is no guarantee investment strategies will be successful and investing involves risks, including possible loss of principal. Investors should talk to their financial advisor prior to making any investment decision and there is always the risk that an investor may lose money. A long-term investment approach cannot guarantee a profit.
All expressions of opinion are subject to change. This article is distributed for informational purposes, and it is not to be construed as an offer, solicitation, recommendation, or endorsement of any particular security, products, or services.
https://finance.yahoo.com/quote/%5EGSPC?p=%5EGSPC
https://www.dimensional.com/us-en/insights/timeless-lessons-from-my-decades-in-finance
From <https://www.dimensional.com/us-en/insights/timing-isnt-everything>